The reality of off-plan houses today in Kenya is that most people avoid them at all costs. Most people or people they know have been swindled of their hard-earned money thanks to the booming real estate industry. However, it is not okay to rule out the very benefits that come with the purchase of off-plan properties. Thorough research on your developer is essential before purchasing properties. If you settle on a developer who has a track record of delivering quality off-plan houses within the stipulated time and terms, then you will surely reap bountiful benefits. Here are some of the benefits of buying off-plan.
Benefits of Buying Off-Plan houses
Flexible Payment Plan
Most people could afford to buy a property if they were given a flexible mode of payment. However, an extended period of time is not realistic to the developer if the house is ready for occupation. In that case, the developer is more likely to settle for a cash buyer. On the other hand, off-plan houses enable home buyers to pay for their house as the construction progress. This ensures the flow of liquidity for the purchaser. In most cases, developers charge only 10% as the first deposit and then allow the homeowner to spread the balance for a specified period of time when construction will be done. Mostly, off-plan houses take between 24 and 36 months before completion. This period allows the homeowner to make proper financial plans.
Capital Appreciation
An off-plan property will offer you capital gains within a short period of time. In most cases, buying an off-plan house is quite affordable. After the completion of the off-plan house, its value will be rated higher than the price you bought it at before construction. In that case, you can buy off-plan houses for investment purposes whereby you sell the unit upon completion and make your profits.
It's a New House
Ain't we always looking to be the first owners of homes whether bought, built, or rented? If you buy an off-plan home, you will be owning a brand new home that has been built in the latest market design, quality materials, modern fixtures, and a 21st century home upgrade such as a smart home and energy-efficient appliances. a new home saves you additional costs that come with replacing broken and/or non-functional features of the home. Maintenance could be done later in the years of dwelling in. If your target is getting an off-plan house as an investment, new homes attract tenants who are willing to pay handsomely for new spaces and that means more rental income for you.
Custom Finishes
When you purchase off-plan houses, you get updates on your home throughout the construction period. Developers allow changes to be done to the unit layout. During construction, you can suggest to the developers how you prefer your finishes, the color of the paint to be used, fittings and the furniture to be added. You also get a chance to choose the orientation of your apartment to suit your liking.
Easy Buying Process
When buying an off-plan house, you get a brand new home on a budget. The purchasing of off-plan homes is beneficial to both parties; the buyer and the developer. The buyer gets a brand new home when the developer gets one unit off the way. This reason makes both parties want to simplify the purchase process. Also, the fact that you will be dealing with professionals who have dealt with selling other properties before ensures that the process runs smoothly.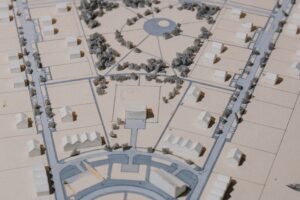 Steps of Buting Off-Plan Houses
It is very important to pay attention to details, especially when making a large investment. In this section, we will help you identify the necessary procedure you need to follow when purchasing an off-plan house.
Assess the property market. Research the property prices to find out how the market has been performing over the last couple of months. This will help you gauge the direction in which the property is taking. Buying off-plan in a  depreciating market can be a huge investment risk.
Determine where you want to buy a house if you have any preferred locations.
Research about the developer and learn what projects they have done in the past and how successful they were in delivery.
Make proper arrangements for your finances and how you plan on financing the house.
Make bookings for the unit you want to purchase.
Make arrangements with a surveyor for the property's valuation. The valuation will be important especially if you are getting a mortgage since your lenders would need it once an offer has been made.
Complete the mortgage paperwork.
Sign and exchange the legal bindings and pay the deposit as needed; it is mostly 10 percent or 20 percent of the purchase price.
Go check your unit two weeks before the completion of the house for any defects or adjustments you'd want to be made. Normally, in the construction of off-plan houses, there are two dates; shortstop which is the date set by the developers when they expect to be done with the project, and long stop which is the actual date that the project must be completed.